Posted by Clay Murray on 20th May 2023
Astro Machine Corporation & Its Ink Cartridges: Ensuring Quality and Affordability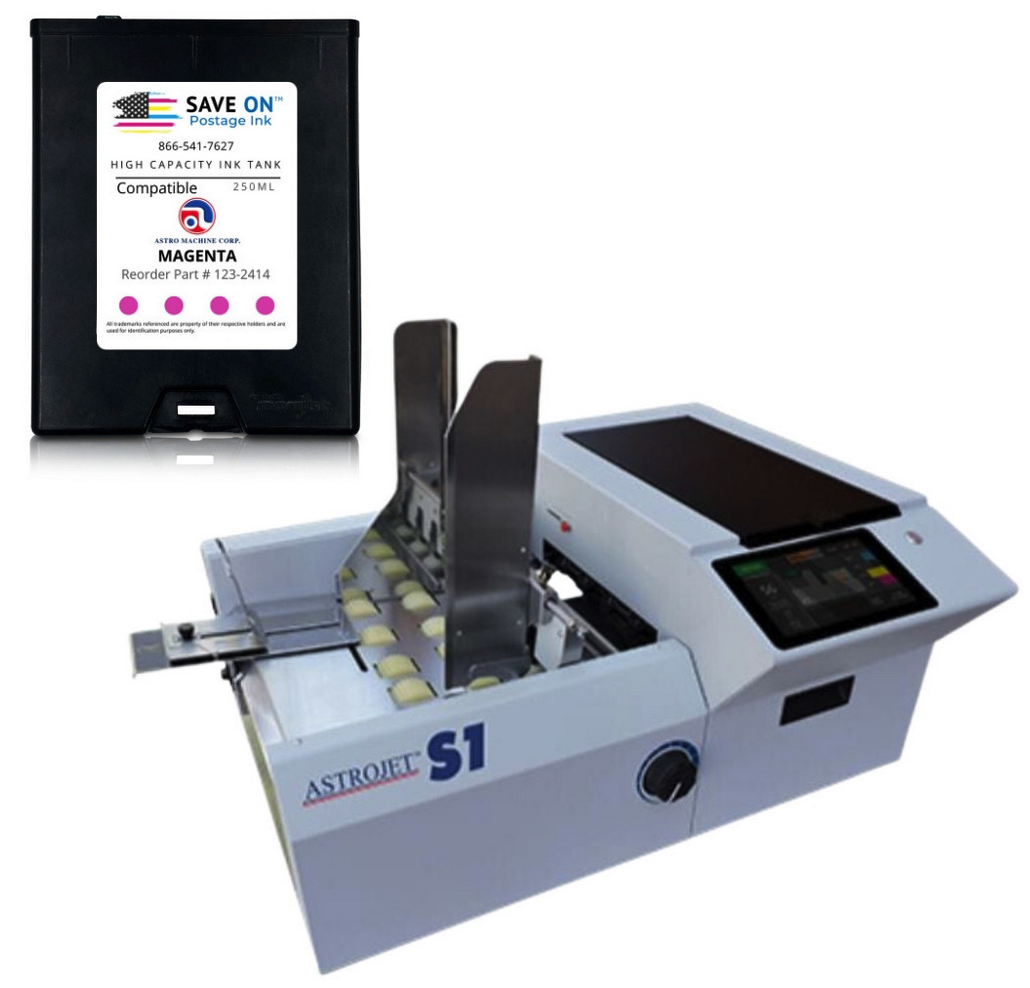 In today's fast-paced business world, efficiency and reliability are critical factors in maintaining a competitive edge. For businesses relying on envelope printers such as the AstroJet M1, AstroJet M2, Astrojet S1, and AstroJet M1DX, finding high-quality ink cartridges is crucial to ensure smooth operations and exceptional print results.Postage meter ink cartridges, ink cartridges are designed to provide exceptional image quality, reliability, and precision while maintaining high-speed printing capabilities. Say goodbye to expensive OEM cartridges and discover our compatible ink cartridges that are designed to meet the exacting standards of Astro Machine Corporation printers.
Unleashing the Power of Astro Machine Corporation Printers
With a rich history dating back to 1978, Astro Machine Corporation has continuously evolved to meet industry demands. Housed in a 35,000 sq. ft. facility in Elk Grove Village, Illinois, Astro's team of dedicated engineering and manufacturing technicians strives to develop cutting-edge inkjet printers, labelers, tabbers, conveyors, envelope feeders, and other companion products. Powered by the innovative MemJet® technology, Astro Machine's printers offer fast, high-quality, on-demand printing, revolutionizing how businesses handle their printing needs.
AstroJet M1: Professional Desktop/Tabletop Print Shop
The AstroJet M1 is a professional desktop/tabletop print shop that guarantees exceptional printing performance. Powered by MemJet®, this printer offers a remarkable print quality of up to 1600 dpi in full-process color and monochrome. Whether you need to print on plain paper, premium glossy and matte labels, or even photo paper, the AstroJet M1 can handle it. With its top load and bottom feed feature, it ensures high-volume production with ease. The user-friendly software provides precise print and printer control, making you effortlessly achieve remarkable results.
AstroJet M2: Professional Standalone Powerhouse
For businesses requiring a standalone printer with an impressive capacity, the AstroJet M2 is the perfect solution. This printer is equipped with MemJet® technology and offers the same high-quality printing capabilities as the AstroJet M1. Its huge 5000-page feeder capacity ensures uninterrupted printing for large-scale projects. With top load and full feed functionality, the AstroJet M2 provides seamless printing operations. Combined with user-friendly software, this printer offers precise print and printer control, allowing you to produce outstanding results consistently.
M1DX: Unleash the Potential of Duplex Printing
The M1DX takes your printing capabilities to the next level by transforming your AstroJet M1 Printer into a duplex printer. With its fast, full-color one or two-sided printing, this printer ensures maximum efficiency and productivity. Installation requires no special tools and is quick and easy. The M1DX is not only economical with its low cost per copy, but it also maintains the same print speed in both single and double-sided printing modes. Switching from single to double-sided printing takes seconds, thanks to its versatile and flexible design. Maintenance and service are hassle-free, thanks to the duplex print engine's easy slide-out feature. With the M1DX, you can achieve fast and efficient printing in a compact footprint.
S1 Color Printer: Performance and Versatility
The S1 Color Printer is a highly versatile and efficient printing solution that offers exceptional performance and ease of operation. Its 7-inch touchscreen display allows users to easily monitor the printer's status, ink levels, and job progress. The touchscreen buttons provide quick access to frequently used printer functions, making it effortless to use. The S1 is particularly well-suited for printing on challenging media, such as padded envelopes and thick cardboard, delivering smear-free prints with a sharp, vibrant print quality of up to 1600 dpi in full process color.
Speed is not compromised with the S1 Color Printer. It can handle up to 3,600 letter-size pages or an impressive 9,000 envelopes per hour, ensuring efficient and timely printing for your business needs. The built-in job library lets you easily recall frequently printed jobs directly from the touchscreen, saving time and effort. The S1 Color Printer is an excellent choice for businesses seeking a high-quality, reliable, easy-to-use printing solution.
Our Products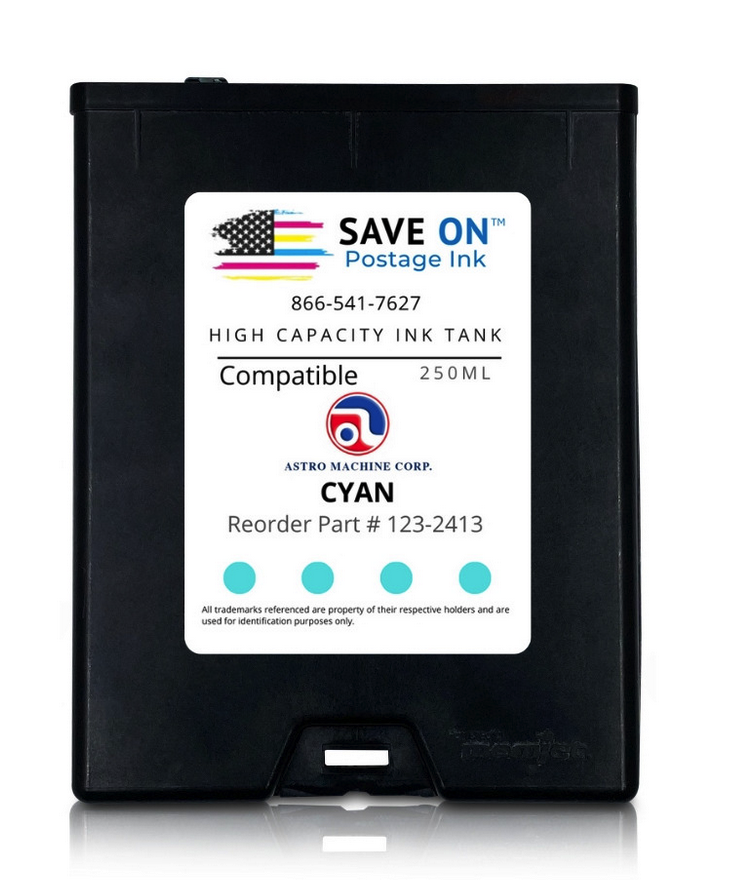 Astro Machine's high-capacity cyan ink tank (123-2413) is the perfect solution for those who demand exceptional image quality, precision, and reliability in their printing operations. Compatible with AstroJet M1, AstroJet M2, AstroJet S1, and AstroJet M1DX printers, this water-based dye ink employs advanced colorants to produce stunning and vivid colors at high printing speeds. With a 250 ml capacity, this cartridge ensures extended print runs without the need for frequent replacements, saving you time and effort. Backed by a bold warranty and 40 years of experience, this product is a reliable choice for your printing needs.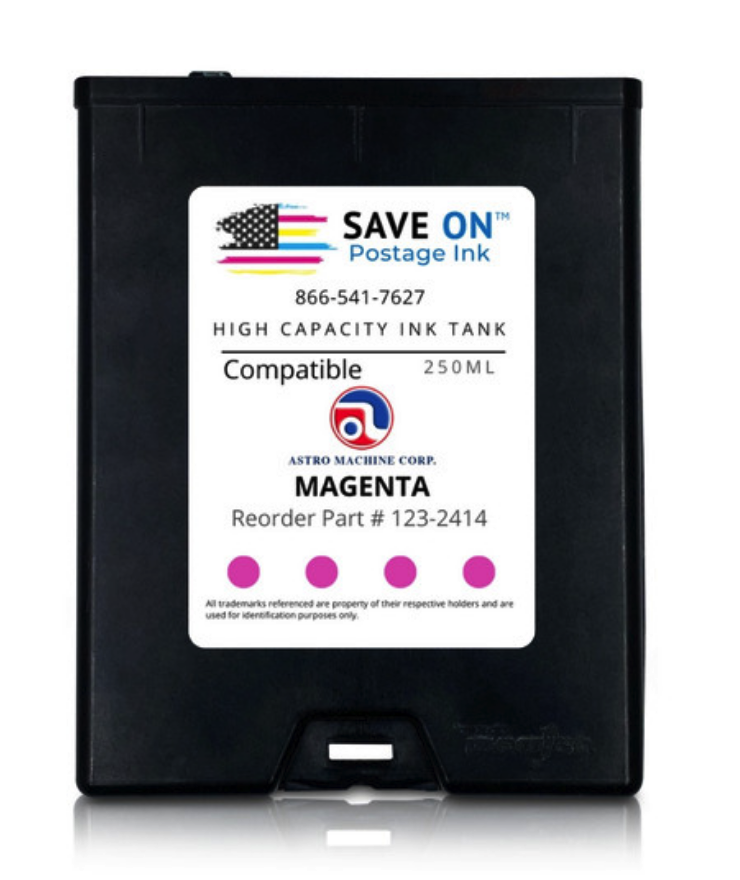 The Astro Machine 123-2414 high-capacity magenta ink tank is the perfect solution for those who want to produce vivid and attention-grabbing prints. Designed to work seamlessly with AstroJet M1, AstroJet M2, AstroJet S1, and AstroJet M1DX printers, this water-based dye ink cartridge delivers exceptional color accuracy and reliability. With a generous 250 ml ink capacity, you can handle large printing volumes without any hassle. Trust in Astro Machine's commitment to quality and innovation to produce stunning prints that will impress anyone.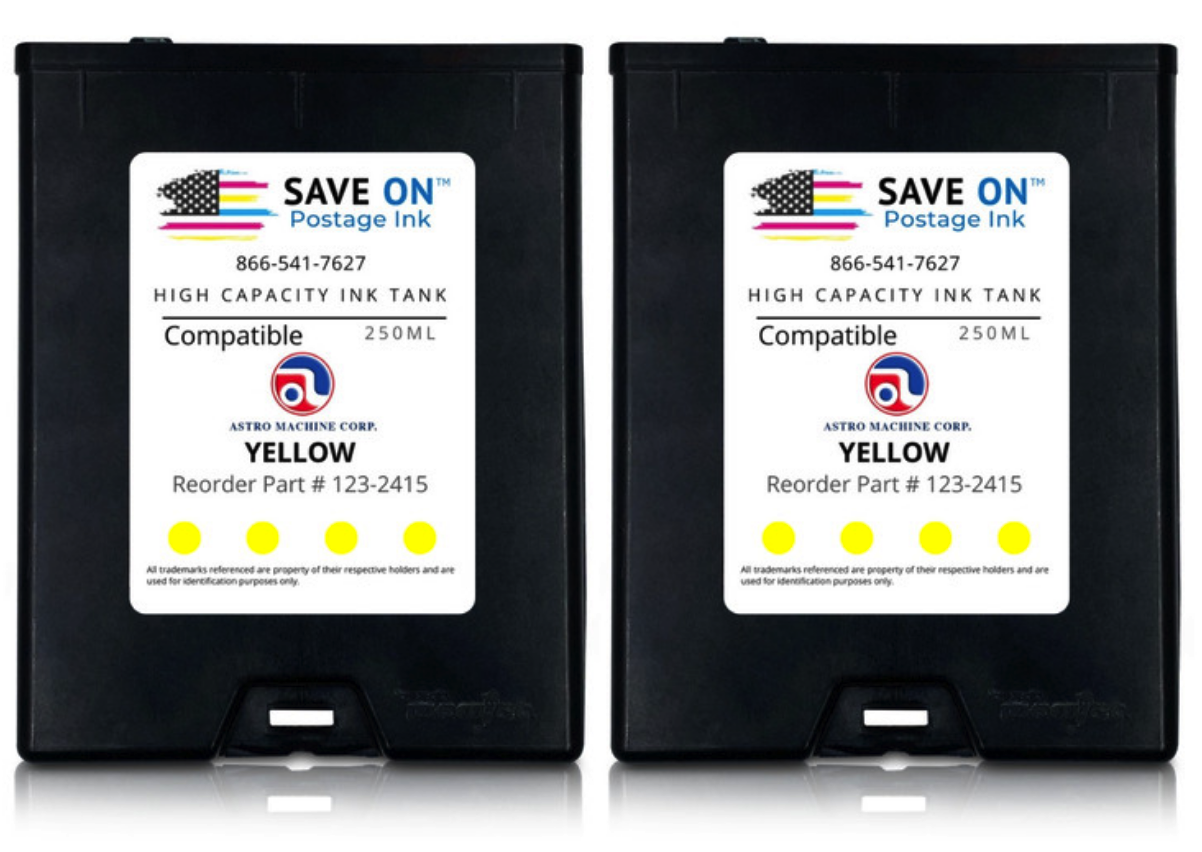 The high-capacity yellow ink tank (123-2415) from Astro Machine Corporation is a must-have for exceptional print quality and durability. Specifically designed for use with AstroJet M1, AstroJet M2, AstroJet S1, and AstroJet M1DX printers, this ink cartridge guarantees vibrant and precise yellow tones in your prints. With a generous 250 ml ink capacity, you can tackle extensive printing tasks without any interruptions, ensuring uninterrupted productivity. Say goodbye to faded prints and hello to professional-grade results with this top-of-the-line yellow ink tank.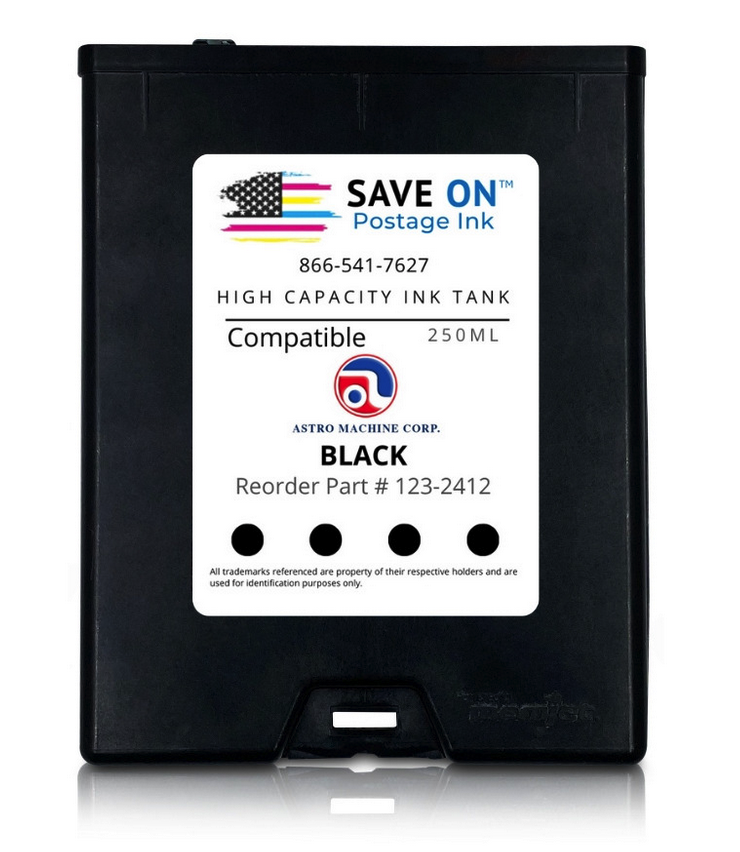 When it comes to legible and sharp text prints, Astro Machine Corporation's high-capacity black ink tank (123-2412) is the ultimate choice. Designed for compatibility with AstroJet M1, AstroJet M2, AstroJet S1, and AstroJet M1DX printers, this ink cartridge ensures consistent and superior black print quality. With its impressive 250 ml ink capacity, you can rely on extended performance and reduce the need for frequent cartridge replacements. Experience precision and reliability with Astro Machine's black ink tank for all your printing needs.
Why Choose Postage Meter Ink Cartridges for Astro Machines?
When finding reliable and high-quality ink cartridges for your Astro Machine Corporation printers,postagemeterinkcartridges.com is the top choice for businesses. Here are the reasons why you should choose us as your trusted supplier:
Superior Quality: Postagemeterinkcartridges is committed to delivering excellent quality ink cartridges that meet the exacting standards of Astro Machine Corporation printers. Their cartridges are designed and manufactured to ensure optimal performance, vibrant colors, and sharp print results. With Postage Meter Ink Cartridges, you can expect consistent and professional-quality prints every time.
Compatibility: The ink cartridges offered by Postage Meter Ink Cartridges are fully compatible with Astro Machine Corporation printers, including the AstroJet M1, AstroJet M2, Astrojet S1, and AstroJet M1DX. You can rest assured that their cartridges will seamlessly integrate with your printers, allowing for smooth and hassle-free printing operations.
Reliability and Consistency: With Postage Meter Ink Cartridges, you can rely on consistent ink flow and reliable performance. Their cartridges are designed to prevent clogs and ensure consistent ink distribution, minimizing the risk of smudged or streaked prints. You can trust their ink cartridges to deliver reliable, high-quality results, print after print.
Cost-Effective: postagemeterinkcartridges offer cost-effective ink cartridge solutions without compromising on quality. Their cartridges provide excellent value for money, allowing businesses to reduce printing costs without sacrificing print quality. By choosing Postage Meter Ink Cartridges, you can enjoy significant savings while still achieving professional-level prints.
Wide Range of Supplies: Besides ink cartridges, postagemeterinkcartridges offer many other postage and addressing machine supplies. They have everything you need, from labels to tapes, seals to cleaning solutions, to support your printing operations. Their comprehensive product selection ensures that you can conveniently source all your printing supplies from a single trusted supplier.
Exceptional Customer Service: postagemeterinkcartridges is dedicated to providing excellent customer service. Their knowledgeable and friendly team can assist you with any inquiries or concerns. They are committed to ensuring a seamless purchasing experience and building long-term customer relationships.
Conclusion
In conclusion,postagemeterinkcartridges.com is ideal for Astro Machine Corporation ink cartridges. With their superior quality, compatibility, reliability, cost-effectiveness, a wide range of supplies, and exceptional customer service, they are the trusted supplier that businesses can rely on for all their ink cartridge needs. Choose postagemeterinkcartridges and experience hassle-free printing with outstanding results.